Menu
*keep scrolling down to see full menu*
Sizes – Iced Drinks: 16oz and 24oz;    Hot Drinks: 12oz, 16oz, and 20oz
Alternative milk options – Oat, Soy, Coconut, and Almondmilk
Flavor options – Vanilla, Hazelnut, Lavender, Caramel, Toffee Nut, Raspberry, Irish Cream, Cane Sugar, Cinnamon, Mocha, and White Mocha
Flavor options (Sugar-Free) – Caramel, Hazelnut, Cinnamon Vanilla, and Vanilla
Cold Foam – We do offer cold foam! Ask for cold foam with your next cold brew or other drink of your choice. We can also make sweet cream cold foam, and other flavored cold foam with any of our flavors. 
Nitro Cold Brew – We now have nitro cold brew! Come by and enjoy this deliciously smooth, nitrogen-infused option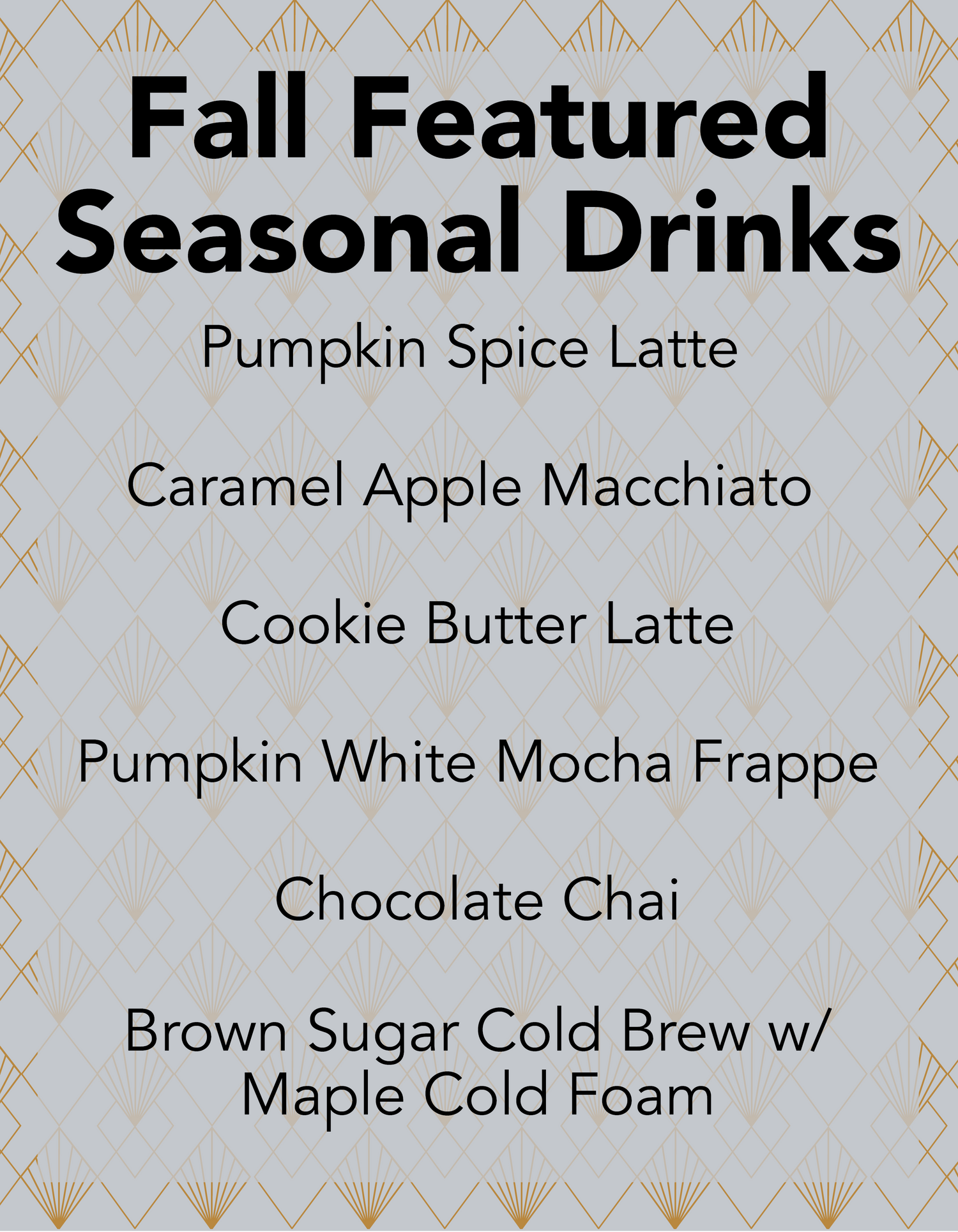 Fall Seasonal Drinks
The changing of the leaves and crisp mornings mean new fun flavors at your favorite coffee shop. Our pumpkin spice latte can be made with a vegan syrup or a classic sauce that contains dairy. The Caramel Apple Macchiato and Cookie Butter Lattes have quickly become people's go-to orders. And of course, for all of you who are cold brew fans -- the brown sugar cold brew with maple sweet cream cold foam is a must.
Come on by and give these new seasonal items a try!
p.s. - we do still have some of our summer options available, such as our Pineapple Tea with Mango Puree and will offer them for as long as supplies lasts.
Signature & Classic Drinks
1. Command Cup (15 CAL) – Drip coffee with a double shot of espresso. A great way to take command of your day!
2. Cold Brew Coffee / Nitro Cold Brew (5 CAL)
4. Iced Coffee (15 CAL)
5. Seasonal Mocha (300-400 CAL) – Happy September friends, your new seasonal mocha is a Pumpkin Cinnamon Roll Mocha. This has pumpkin, vanilla bean and white mocha; topped with whipped cream and cinnamon powder. Come on by and give it a try!
6. Caramel Macchiato (250 CAL)
7. Blended Espresso Frap (150 CAL)
8. Hot Chocolate (400 CAL)
9. Iced Tea With Lemonade (90 CAL)
10. Chai Tea Latte (240 CAL)
11. Latte (15 CAL)
12. Cappucino (5 CAL)

13. Americano (5 CAL)

14. Espresso Doubleshot (5 CAL)

15. Cortado (15 CAL)

16. Cafe Mocha (250 CAL)

17. Matcha Latte (190 CAL)

18. Black Tea (5 CAL)

19. Fruit Tea (90 CAL)

20. Herbal Tea (90 CAL)

21. Green Tea (5-90 CAL)
Food / Grab & Go
– Breakfast sandwiches (300–320 cal)
– Breakfast Burritos (610 CAL)
– Danish (212 CAL)
– Muffin (380 CAL)
– Cheesecake (500-600 CAL)
– Fiji Bottled Water (0 CAL)
– San Pellegrino Sparkling Water (FLAVORED, 120-130 CAL)
– Horizon Organic Milk (1!0-190 CAL)

– Chobani Greek Yogurt (90 CAL)
– Spread Hummus Red Pepper With Pretzels (370 CAL)
CoreLife Eatery Greens & Grains Bowls
– Spicy Thai Chicken & Rice Noodle (380/430 CAL)
– Southwest Chicken & Purple Rice Noodle (225/430 CAL)